Tiffany Jolley, Director of Credentialing, USAP-Texas (Houston)
Tell us about yourself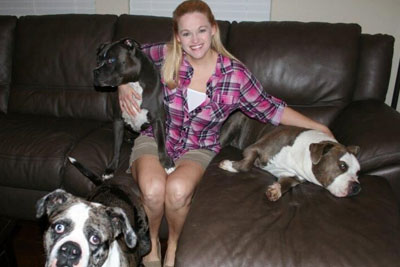 My husband and I have been married for 17 years. We have three, lovable pit bulls and we live in Conroe, Texas. My favorite food is Mexican (Texas-style, of course); and I love to shop... for clothes, bedding, house goods... you name it. I don't discriminate on my Mexican food or my shopping. I love it all.
What are you most grateful for?
My parents. My dad taught me about being independent and hardworking, while my mom taught me to be kind and nurturing. These are the core qualities that make me who I am today
My friendships. I only have a few, but they are my rock... I'd never survive this world without them
My job and the opportunities I've had at USAP.
How do you spend your free time?
We have a boat and we spend much of our free time on Lake Conroe tubing, relaxing, cruising around, and just disconnecting from electronics while enjoying our time on the open water.
What do you like best about USAP?
Collaborating with my peers and our partner practices, learning how they run their operations, gaining insight into how business works. My career knowledge has grown tremendously in the nine years I've been with USAP (GHA). As the Director of Credentialing for Texas, I have the opportunity to be involved with all USAP acquisitions (in Texas and other states). I enjoy helping the new groups learn our USAP-wide credentialing system and how it can benefit their credentialing staff, providers and organization.
What surprises you most in your job?
When USAP was first presented to us at GHA, the foundation of the company was based on providing only the highest quality of care to our patients and facilities. I was a bit skeptical. I was unsure if a company would choose quality over quantity. Today, I can validate that USAP has stood by this philosophy. We have even taken it a step further and implemented ways to capture data to prove our great clinical quality. I am impressed with the quality of providers who work with USAP. Our brand does stand for quality and I am proud to be part of this great organization. It's remarkable.
How did you come to choose your profession?
I worked as an administrative assistant for an ear nose and throat practice for 12 years where I wore many hats and gain exposure to a variety of office operations. Credentialing was just one of the things I did there and I grew to love it. Here at USAP, credentialing is my specialty. It's quite an exciting role.
What do you consider the most important aspect of customer service?
Response time. The credentialing department interacts with many different areas, all requiring a high level of customer service. When we are contacted by one of our providers, hospitals or MSO staff, it is often because someone needs something quickly. The size of our organization results in a large number of daily emails and phone calls, which can make response time challenging. This is our primary focus. We want our response time to be the standard. We want the providers to know that we're a resource for them. We are their support system enabling them to begin seeing patients under the USAP umbrella as quickly as possible. 8.What legacy would you like to leave? To be viewed as a strong support resource for clinicians, providing a service that makes their day, their jobs, a little bit easier.