USAP-Florida
Improving outcomes, safety and patient satisfaction
On January of 2014, JLR became a part of U.S. Anesthesia Partners. Now operating as USAP-Florida, this partnership also united JLR with the nation's leading anesthesia practices and MAPMC, which also became a part of USAP-Florida. In 2017, Florida Anesthesia Associates and Jacksonville Anesthesia both became a part of the USAP-Florida family.  USAP-Florida is now present in north, central and south Florida.
Our team believes in giving back through medical service and volunteerism in our community and around the globe, fostering a culture of philanthropy.
Our experienced anesthesiologists are at the top of their class, having trained at many of the best hospitals in the United States according to U.S. News and World Report.
Our physicians lead in their field, performing over 100,000 cases per year, and researching and developing breakthrough medical treatments that are improving outcomes, safety and patient satisfaction.
We provide a breadth of clinical experience and sub-specialty anesthesiology care from complex cardiothoracic and transplant procedures to cutting-edge neurosurgery, advanced regional anesthesia, pediatric care,labor and delivery procedures and premier orthopaedic care for sports medicine and joint replacement.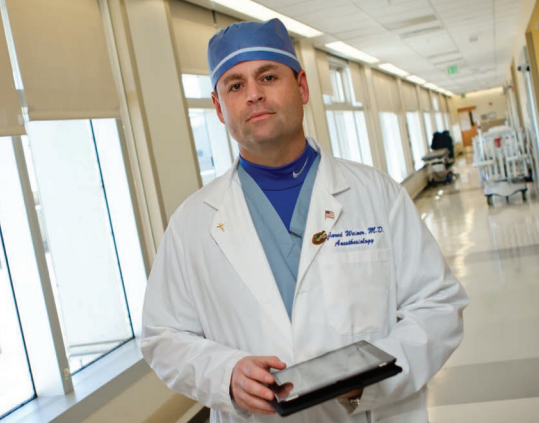 Metrics-driven performance
We are measuring our performance at the deepest levels to streamline perioperative care, maximizing patient outcomes, safety, efficiency and productivity.

Our quality improvement efforts focus on minimizing delays and canceled surgeries, decreasing surgical length of stay, and increasing OR quality and efficiency through coordinated care.

Ongoing and continuous satisfaction surveys to measure and improve our care and relationships with patients, clinical partners, and administrators.